Savoy Raises Top Dollars for Relay For Life of Greater Morristown on June 6th
Regional insurance general agency, Savoy Associates, puts the power of their people to work for Relay For Life
---
June 15, 2015
Morristown, N.J., June 15, 2015
— In their first year participating in the American Cancer Society Relay for Life, Savoy Associates has raised over sixteen thousand dollars ($16,000), making them the top team fundraiser at the Relay For Life of Morristown event on June 6th and the second highest team fundraiser in Morris County, New Jersey.
"I feel truly honored to have worked with such an amazing, passionate, and charitable company. What Savoy Associates accomplished this year, raising over sixteen thousand dollars for the fight against cancer, is astounding," explains Brandie Engelberger, Community Manager for the American Cancer Society Relay For Life.
Savoy Associates employees and their family members spent the past three months raising awareness and donations toward the American Cancer Society Relay For Life, which culminated at the event in Morristown on Saturday, June 6
th
when team members took turns walking around the track to signify the relentless fight against cancer. In addition to walking, employees were able to enjoy Relay For Life's family-friendly activities, talented performances, inspiring speakers, and ceremonies.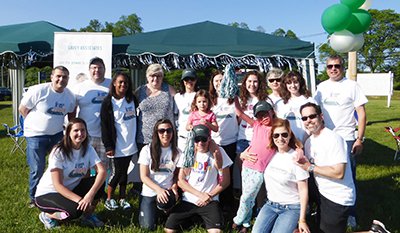 "Participating in Relay For Life has been such a positive experience for Savoy Associates, and I am extremely proud of our team for coming together to raise awareness and funds which will contribute toward finishing the fight against cancer," says Don Savoy, CEO/President of Savoy Associates.
Together with the other teams and participants, Savoy Associates helped Relay For Life of Greater Morristown raise over fifty-four thousand dollars ($54,000) for the American Cancer Society.
About Savoy Associates
Savoy Associates (SA) is a regional general agency with over 40 general agency contracts for employee and individual health benefits, including medical, dental, life, and more, offering employer services consulting as well. Their corporate office is located in Florham Park, NJ with additional offices located in One Penn Plaza, Long Island, Southern New Jersey, Philadelphia, and Delaware. For more information on Savoy Associates, visit their website at
savoyassociates.com
.
About American Cancer Society
For over 100 years, the American Cancer Society (ACS) has worked relentlessly to save lives and create a world with less cancer. Together with millions of our supporters worldwide, we help people stay well and get well, find cures, and fight back against cancer.
Relay For Life
The American Cancer Society Relay For Life event is where communities across the globe come together to "
Celebrate
the lives of people who have battled cancer,
Remember
loved ones lost, and
Fight Back
against the disease." Each year, more than 4 million people in over 20 counties raise funds and cancer awareness through the Relay For Life movement. To learn more about Relay For Life, visit
relayforlife.org
.