For the Third Year in a Row, Employees Vote Savoy Top Insurance Workplace
Presented by Insurance Business America
---
August 10, 2022
Florham Park, New Jersey, August 10, 2022—Savoy, a strategic partner specializing in innovative consulting services, is pleased to announce that Savoy was voted a Top Insurance Workplace by its employees after participating in Insurance Business America's employee survey program for the third year in a row.
Insurance Business America's annual Top Insurance Workplace program ranks leading U.S. insurance organizations based on a survey of employee satisfaction metrics, including benefits, compensation, culture and professional development.
To make this best-rated list, Savoy had to meet the minimum sample of employee survey completions and achieve an 80% or greater average satisfaction rating from employees.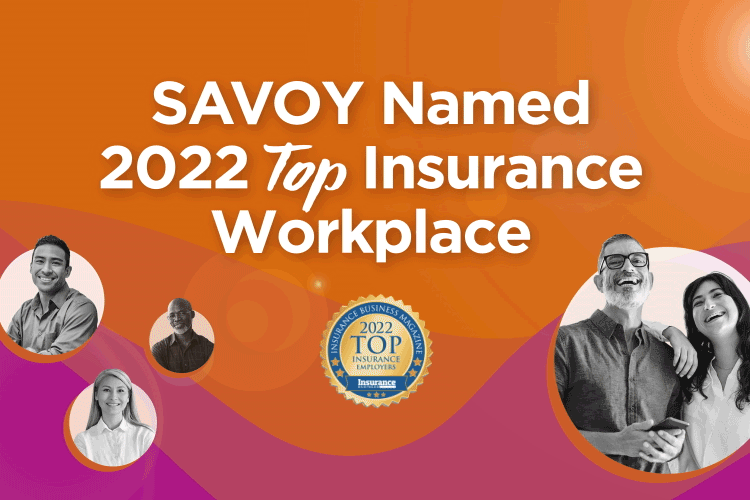 "At Savoy, we are bringing together very talented and determined people to achieve new levels of success," said Denise Rugel, Chief Operating Officer. "We are pleased employees agree Savoy is a great place to work."
Participation in the workplace survey was voluntary and included companies with 10 to over 1,000 employees—only 63 achieved 2022 Top Insurance Workplace status.
Savoy marks its 37th anniversary as a leading strategic partner with more than 125 talented employees and dedicated offices throughout New York, New Jersey, Pennsylvania, Delaware and Florida.
About SAVOY
Savoy is a strategic partner specializing in consulting services. With more than 37 years' experience, Savoy is a proudly independent boutique agency that provides a full suite of health and specialty benefits, individual health and life insurance, Medicare, a multichannel Contact Center, compliance and human resources services, technology, research, education, marketing and other innovative solutions through its offices in New York, New Jersey, Pennsylvania, Delaware and Florida.