Ruby Ulloa Appointed President of the Florida NABIP Miami Chapter
---
August 14, 2023
Savoy would like to congratulate
Ruby Ulloa
on her new role as President of the Miami Chapter of the Florida National Association of Benefits and Insurance Professionals (NABIP).
Ruby has over 15 years' experience in the employee benefits industry, with a strong background in group medical, ancillary and worksite benefits as well as life, annuity and long-term care sales.
"Our industry needs people who genuinely care and want to help employers and individuals find solutions to provide peace of mind when it comes to health and wellness and employee benefits," said Ruby Ulloa, Business Development Specialist.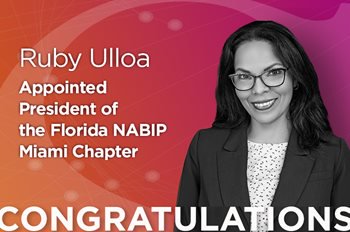 NABIP Miami's mission is to protect the consumer's future. They focus on strengthening the insurance marketplace by advocating effective legislation, ethical leadership and professional standards, and by educating their members and the consumers they serve.
Please join us in congratulating Ruby Ulloa on her new role as President of the Florida NABIP Miami Chapter.
For more information on NABIP Florida, please visit:
nabipfl.org
.